Camp information
In the main building you will find the information desk, where a member of the Holst/Holst-Mattrup family always is ready to serve the guests. In the same area are the mini-market and the grill bar.
Opening hours is listed at the entrance. The lounge in the main building is divided into 2 sections, one with playing machines, pool table and TV, the other with TV and tables.
Information
If the sun is not shining we have 3 solariums, which can give the right holiday tan. At the ground there is an open area of 50.000 m2, where you can fly your kite, train the dog and much more – your fantasy sets the limit.
There are four kitchens, all with electric stove and oven, dishwashing facilities with free hot water. The common kitchens are a good place for contact to the other campers.
Activities symbols



















Information symbols















Star Requirements



















The Office:
From 9.00 am to 8.00 pm
+45 74 56 62 25
Shop:
Everyday: 8 am. - 8 pm.
Fresh backed bread every day when the shop is open.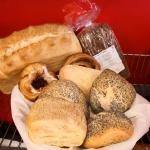 Snackbar:
Everyday 4 pm to 8 pm
Waterpark:
Open every day: 8 am - 8 pm
The Gate:
07 am - 11 pm